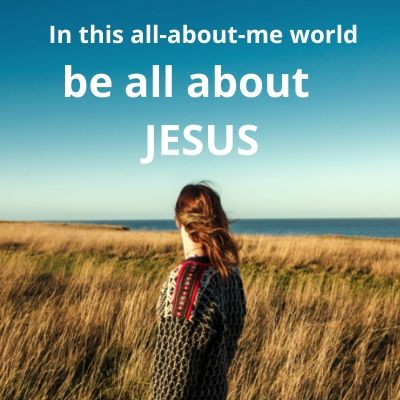 Now more than ever, others need to see Jesus in us. Not the Jesus the media portrays. Not the Jesus that others have created in their minds. But the Jesus of the Bible. The Jesus of the cross. The Jesus who lives in our hearts and loves without reason. 
I've been a believer in Jesus for more than 50 years. But I haven't necessarily let others see the real Him in my life that whole time.
When I received Christ into my heart at 4 years old, all I knew then was to believe and receive. During my high school and college years I learned it was about standing for my convictions. Today, I realize that calling myself a follower of Christ means He must be on the throne of my life and He is the One others must see, not me. 
Paul said in Galatians 2:20: "I have been crucified with Christ. It is no longer I who live, but Christ who lives in me. And the life I now live in the flesh I live by faith in the Son of God, who loved me and gave himself for me." 
Here are five simple ways to live by faith in the Son of God so that others see Jesus in you: 
Love the unlovely.
It's easy to love someone who loves you in return. It's also easy to love the beautiful, kind, and lovely people. But it's a whole different story to love someone who doesn't deserve your love or look the part or treat you well. Yet that's what Jesus did and He instructed His followers to do the same.
Jesus said "My command is this: Love each other as I have loved you" (John 15:12). How did Jesus love? Scripture answers that in Romans 5:8: "While we were still sinners, Christ died for us" (Romans 5:8).
Those without Christ only know conditional love, selfish love, erotic love. But when you show an unworldly love – a love that is sacrificial and without limits, preferences, or condition – others can't help but see Jesus in you.
2. Freely forgive. 
If I said to you: "I'll forgive you when you have finally deserved my forgiveness" or "I need more time. I'll forgive you when I'm ready" would you see the love and person of Christ in me?
I know forgiveness is difficult, especially when you've been hurt in a way that you never thought possible. I know it is not within us to be able to forgive freely and without condition. But that's why your forgiveness of another is such a powerful testimony of Christ's presence in your life. You know how badly offense hurts. And you know how freely Christ forgave you in spite of your own offenses. Colossians 3:13 instructs us "as the Lord has forgiven you, so you also must forgive." Go ahead. Let go of that burden of bitterness and resentment and freely forgive. When you do, others will see Christ in you. (For more help in this tough area, see my book, When a Woman Overcomes Life's Hurts.) 
3. Display joy. 
Jesus said "I came that they may have life and have it abundantly," (John 10:10). That is joy, my friends. He also saidwhen we obey Him and remain in His love, His joy will be in us and our joy will be complete (John 15:10-11). How can we know the God of this Universe – and experience His freedom and forgiveness – and not be filled with joy?
Yes, life is difficult. But joy is not about our circumstances which can change from day to day. Joy is about our condition– of being forgiven and free in Christ – which will never change. Be a person who is joyful, not continually down in the dumps, and others will see Christ in you. 
4. Show grace, not a critical spirit. 
It dawned on me years ago that it was easier for me to be critical of someone upon meeting them, than to show them grace. I was tuned into how they dressed, talked, and displayed themselves, rather than their heart for which Christ died. But that attitude was not exemplary of Christ in me. That was the flesh in me. The selfishness in me. The insecurity in me that felt I needed to compare myself with others in hopes that I would come out ahead. People weren't seeing Christ in me that way. They were seeing a critical woman trying to compensate for her own hurts.
When you and I start showing compassion toward others, empathizing with others' situations or hurts, and showing grace and mercy rather than a critical spirit, we can be representatives of Christ's grace and mercy. In Micah 6:8 we read that what God requires of His own is "to do justice, and to love kindness,and to walk humbly with your God." Are you being just, kind, and humble in your attitude toward others? If so, they will see Christ in you.
5. Be willing to be at the bottom.  
It's human nature to want to be a celebrity. Even a Christian celebrity. But Jesus never sought the spotlight even though He fully deserved it. Instead, He insisted His Father receive the accolades and glory. Jesus showed us that the way up was down. The last would be first. And the humble would be exalted. 
James 4:10 instructs: "Humble yourselves before the Lord, and he will exalt you."
The world doesn't value humility. It avoids it all costs. Yet Christ humbled himself when he gave up what was rightfully His to come to this earth and live a life at our level. There is nothing more beautiful that someone who is at "the top" and shining brightly for Christ because they were willing to be at the bottom. One who lets God exalt him, rather than exalting himself, is one through whom others see Christ.
I'll give you five more ways you and I can be more like Christ in my next blog. For now, which one(s) will you be focusing on? I'd love to hear it in the comment section below so we can be praying for each other. 🙂