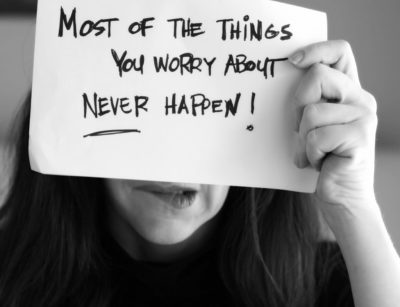 Last week we looked at the first two (of five)  things a mom never needs to worry about:  her child's friendships, and her child's future spouse.
Today, I want to look at the other three things a mom never needs to worry about:
3. Your Child's Choices – God was the perfect parent, but Adam and Eve still sinned. So even when you are doing all you can to guide your children spiritually, they will still make choices of their own. At times those choices won't be the best ones. But that's how they learn and grow through their mistakes. And that's when we trust that "in all things God works for the good of those who love him, who have been called according to his purpose" (Romans 8:28).
Instead of worrying about your children's poor or less than best choices,  pray for their strength and wisdom to discern God's will over their own (or someone else's) and find ways to encourage them, but not pressure them through verbalizing your worries or concerns.
4. Your Child's Health – I know moms who stress over how many vegetable their kids eat, how many cancer-causing agents are all around their children, and how many hormones are in those chicken nuggets, which are often the one thing our kids want to eat in their formative years. As you and I do the best we can to ensure our children eat nutritionally and get adequate sleep and exercise, we are powerless, in some ways, over their health. And yet, I am comforted knowing that nothing touches us — or our children — that hasn't first passed through God's loving hands. What an assurance! No matter what my child contracts, no matter what he or she touches or eats (and we've all been horrified by what they've put in their mouths), God has their little (and adult) lives in His hands.
5. Your Child's Future  – I remember the panic I experienced when my daughter expressed interest in attending an acting academy in Hollywood after high school graduation. Besides it being located in the dead-center of Hollywood (which is neither a safe, nor a desirable place to live), she would be at least two hours from home and without a strong spiritual mentor in her life. And yet, as the time approached for her to decide upon where she would continue her education,  my husband and I prayed for Dana's discernment to hear God's leading in her life, not just ours. God changed her heart and mind, without us having to, and she ended up majoring in public relations at a Christian University and landing a promising job with the Walt Disney Company….something far better than we could've planned for her.
Sometimes we assume our desires for our children are the same as God's desires for them. But God is looking beyond their physical safety and what makes their parents feel comfortable and is weighing the entire man or woman He wants your child to become. God takes into account the lessons they will learn along the way, the challenges they will experience that will shape their character, and their fears and uncertainties that will drive them to depend on Him.
Instead of worrying, trust the process God is allowing in your child's life, pray for them to hear God's leading, offer guidance when asked, and then wait to see what God does. That process can be as exciting (or as worrisome) for you as it is for your child. You decide. If you are hopeful for their future, while trusting God with it, they will most likely learn to do the same.
In what ways have you found God absolutely faithful when it came to taking care of your child?