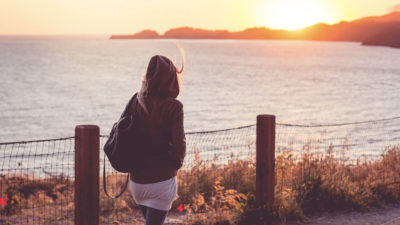 Last week, I gave you 5 Simple Steps to Leave Your Pain in the Past. This week I'm offering you 5 more ways to help you overcome the deep-seated hurts in your life.  (And No. 2 just might surprise you…especially if it's the reason you have not been able to move forward out of your past pain.)
From my book, When a Woman Overcomes Life's Hurts, here are 5 more steps toward healing and wholeness so you can move on from the baggage in your past:
1. Relinquish your right to yourself
It's natural for you and I to believe we have a right to a pain-free, happy life. But Jesus never promised even a comfortable life for those who followed Him. Rather, He said: "If anyone would come after me, let him deny himself and take up his cross daily and follow me," (Luke 9:23). To pick up your cross daily means there's going to be pain, hurt, discomfort, and a relinquishing of your right to yourself.
Furthermore, the Apostle Paul modeled to us a life that is surrendered to Christ in which we have no personal rights, when he said "I have been crucified with Christ. It is no longer I who live, but Christ who lives in me. And the life I now live in the flesh I live by faith in the Son of God, who loved me and gave himself for me" (Galatians 2:20).
True surrender means recognizing your life is not your own; you belong to a loving Master who has your best at heart. Relinquish your right to yourself and experience the peace that you are in your Father's hands and He knows exactly what He's doing.
2. Recognize real vs. distorted love
We get stuck in painful patterns from our past and repeat dysfunctional behavior when we fail to understand what healthy love looks like. In ministering to women, I've found that their search for love can cause them to tolerate unhealthy, damaging behavior in others.
Christ said "Greater love has no one than this, that someone lay down his life for his friends" (John 15:13). True, unconditional love involves self-sacrifice for the benefit of the other. Not manipulation. Not physical or emotional abuse. Not self-centered living.
When you grab hold of God's definition of love as seen in the life of Christ and in Scripture (1 Corinthians 13:4-7), you will raise your standards higher and not repeat mistakes that cause you pain, including tolerating or entering new relationships with people who continue to hurt you.
3. Release yourself through forgiveness
Not only do we need to forgive ourselves of offenses we believe are unforgivable, but when we forgive others who have offended us, we end up letting ourselves off of their emotional hook.
We stay in bondage to our pain and the one who caused us pain when we refuse to forgive another person. They may not ask for your forgiveness, they may not even be sorry, but when you release your offender – and the offense – to God and say "I'm not going to expect this person to make it right, because they never could anway" you will experience freedom from the pain. We forgive because Christ has forgiven us (Matthew 6:14-15). And we forgive, because it is essential to our own healing process.
4. Refresh your soul through praise
1 Thessalonians 5:18 says "in everything give thanks, for this is God's will for you in Christ Jesus." In everything – even the unwanted, uncomfortable, and unpleasant things – give thanks, and you will be living out God's will for you. As you praise God, He will give you a new perspective. He will remind you of who you are in His eyes. And you will experience joy again. Worship draws us closer to the presence of God. And Psalm 16:11 says "In His presence, is fullness of joy."
Praise Him in the pain and you'll find yourself experiencing His peace and His joy…evidence that you have overcome your hurts.
5. Re-invest in the lives of others
I've seen it over and over again. A man or woman who is wounded receives God's healing and then gets back into the trenches where he or she was wounded and begins to help others out of their painful situation, as well. It's how God turns our pain into our purpose. It's how He brings something beautiful out of what was once bitter. And it's how He completes our healing process.
Second Corinthians 1:3-4 tells us that the God of all comfort "comforts us in all our affliction, so that we may be able to comfort those who are in any affliction, with the comfort with which we ourselves are comforted by God."
Whom can you comfort with the comfort God has given you? Whose life can you encourage by sharing where God has met you in your pain? God ministers healing to us as we reach out to minister to the hurts of others.
I'm giving away a free copy of When a Woman Overcomes Life's Hurts. To be entered into the drawing, leave a comment below and include the U.S. state you live in. (Free book available to residents of U.S. mailing addresses or American post office boxes only please.)