Could you use some tips for more effectively hearing God's voice?
This week I asked Author Leighann McCoy to share her insights on how you can develop your listening skills when it comes to hearing God's voice. You can also win one of ten books she is giving away at the end of the blog so stay tuned:
Leighann, author of A Woman's Guide to Hearing God's Voice, says:
Like Cindi, I too have been a follower of Christ since I was a girl.  And even though I've written a book on the subject, I still find it difficult to hear God's voice.
Sometimes I strain my ears and hear nothing at all.
And sometimes I can't distinguish the voice of God from the other voices I hear in my head.
One time I "heard" God tell me that I was pregnant and I was having a baby boy. A few weeks later I discovered that I was indeed pregnant! But a few weeks after that I found out my baby was a girl. I was partly hearing God's voice and partly hearing my own wishful thinking.
It's not that hard to hear God's voice, but it's not that easy either. Cindi encouraged us to listen to God's whispers. I call those whispers His "still small voice."
(I've put together a bonus resource at the end of this post that includes a link to a message on hearing God's still small voice and 4 reliable tests to distinguish His voice from others.)
The key to hearing God's "still small voice" is learning how to listen. Here are four tips for effective listening.
Pay attention.
It kind of goes without saying, and yet we rush into our quiet times, read our Bibles, talk to God about what we want Him to do for us then off we go.
What if you…
Read your Bible
Asked God to speak to you
And then sat still?
Try it! Start small.
I began with 2 minutes. My mind wandered and I considered the "nothingness" a possible "waste" of precious time. But, after a few days I realized that I was beginning to hear God "whisper."
Shut out distractions.
How often do we try to do several things at a time? We call it "multi-tasking."
A guy named Lipkin said, there's really no such thing as multi-tasking. You're just dividing your attention. No single task is getting your best effort and the people in your life are not receiving your full attention.
There's no way you can hear God's voice clearly while you're distracted. Give God your undivided attention and exercise the art of being present in the moment.
Be careful not to pass judgment.
While we may not pass judgment on God, we might be guilty of coming into God's presence with preconceived notions. For instance, the other day I was talking with a woman who is extremely unhappy in her marriage, and she said to me, "God wants me to be happy, doesn't He?"
Does He?
I reminded her that while God cares about us deeply, He is much more interested in our holiness than He is in our happiness.
God is always teaching us new things and expanding our understanding of Him and His ways. Allow Him to rearrange your preconceived notions and correct your wrong thinking.
Learn more about praying when you're waiting on an answer in my ultimate Go-To Guide for Prayer.   You will especially appreciate the article God is Silent on Many Things but These 6 Things I Know.
Respond carefully.
When you spend time with God you learn to recognize His voice. James tells us the difference between listening to God's Word and actually hearing it.
Those who hear…do.
But don't just listen to God's word. You must do what it says. Otherwise, you are only fooling yourselves (James 1:22, NLT).
As you walk in obedience, you will become quite familiar with God's voice.
If you'd like to continue developing your spiritual listening skills, enjoy these bonus resources I've put together especially for Cindi's readers.
"It's not that Hard to Hear God's Voice" (audio message) AND the listening guide.
Step by Step Guide to Spending an Hour in Prayer, and
In 7 days I'm giving away 10 autographed copies of my book A Woman's Guide to Hearing God's Voice absolutely free.
Get these resources by signing up here.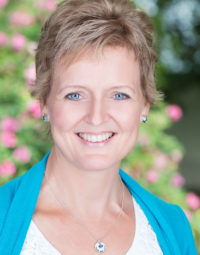 Leighann McCoy encourages women to experience a Never Fail Faith. She is the author of several books including A Woman's Guide to Hearing God's Voice and Spiritual Warfare for Women (Bethany House Publishers). Her next book, Spiritual Warfare for Your Family: What You Need to Know to Protect Your Children will release summer 2016. Her favorite role, however, is that of Nana (and her two granddaughters are sitting in her lap as she pens these words). You can visit Leighann online at www.leighannmccoy.com