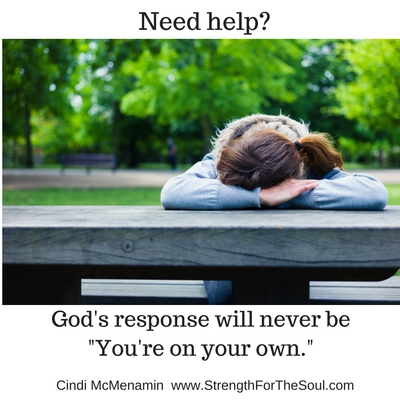 About 16 months ago I posted a blog called  "5 Things God Will Never Say as You Hand Him Your Concerns."
You were encouraged to find out that God's response will never be:
1. You've got this yourself.
2. I really don't want to hear about it.
3. You don't need Me.
4. Sorry, it's impossible.
5. I don't want to do anything for you
(Click on that link above and you can get the details on why you'll never hear those responses.)
Now, here are 4 more things God will never say when we trust Him with our problems, rather than worry:
I'm sorry. When we tell others our concern, they can sympathize with us. They might even be a contributor to what concerns us, in which case they might apologize. But we have a God who makes no mistakes. All His ways are perfect  (Deut. 32:4). So He is a God who literally never has to say He's sorry.
I had no idea. There is nothing You can tell God that will take Him by surprise. Nothing will shock Him or disappoint Him or change the way He feels about you. Read Psalm 139 – in its entirety — as a refresher course in how familiar God is with all of your ways. ("O

Lord

, You have searched me and known me.…Even before there is a word on my tongue…You know it all….") Don't ever think you're telling God something in prayer that He doesn't already know.
I'll pray for you.  This is often a believer's response when we share our struggles. And it's great to have friends who will remember to actually pray for us, after telling us they will. The wonderful thing about telling God our concerns is that He is already at work in our circumstances (Romans 8:28-29). So, rather than saying "I"ll pray for you," God's response is "I've got you!"
I wish I could help. Most of the people we confide in really are helpless when it comes to eliminating, fixing, or solving our concern. They can offer comfort, support, and encouragement but that's about it. God is the Only One who really can help. Listen to the song writer's words in Psalm 121:
My help comes from the Lord,
    the Maker of heaven and earth.
 He will not let your foot slip—
    he who watches over you will not slumber;

 The Lord watches over you—
    the Lord is your shade at your right hand;
 the sun will not harm you by day,
    nor the moon by night.
 The Lord will keep you from all harm—
    he will watch over your life;
 the Lord will watch over your coming and going
    both now and forevermore (verses 2-3, 5-8).
The Lord really is our Helper. And if it appears He's doing nothing about your concern, He is either waiting for the perfect time to come through for you or He is working something far better for you than you can imagine.
Can you trust Him with your concerns today?
For more on God's tender heart toward you, see my devotional  God's Whispers to a Woman's Heart, and read a sample page on my website.