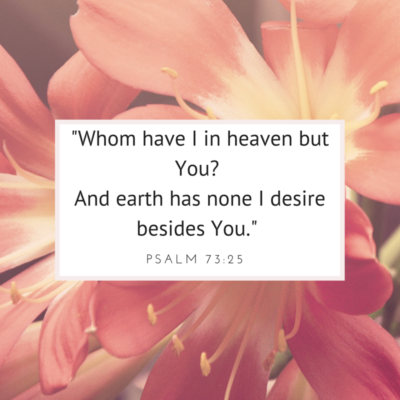 What percentage of your life is made up of worship? One day out of your week? A fraction of a day, perhaps? Or do you know yet what it's like to experience worship of God as a lifestyle?
Our entire existence is intended for worship of the one true God. So, if worship of Him only represents a small portion of your week or even a fraction of a day right now, you've got some worship shape to get into before you enter heaven. After all, we will be worshipping God for all eternity.
If you think of worship as a 20-minute singing time once a week at church, or if you're starting to think that heaven doesn't sound that great if it's going to be all about singing, then let me encourage you with how worship – what God deserves from every one of us – can be an increasing and exciting part of your everyday life.
Scripture commands: "Whether you eat or drink or whatever you do, do it all for the glory of God" (1 Corinthians 10:31). That command is not only telling us how to conduct our lives here on earth, it's intended to get us prepared for heaven.
Worship ultimately is for God, our Savior, but a side benefit is that we will find life more fulfilling the more we worship Him because we will be living our purpose. We were created to love God and enjoy Him forever. As we praise Him, live in awe of His worthiness, and serve Him because He is a great God, we will be living as He intended and that brings personal fulfillment, as well.
In Psalm 16:11, David the Psalmist, said "In Your presence is fullness of joy; at your right hand are pleasures forever:" Worship ushers us into the presence of God. Therefore, as you praise Him with your words, your actions, your entire life, you will sense His presence and that is where joy can be found.
Here are three ways you can make worship a vital part of your everyday life:
Reset your heart by desiring God above anything else. You can do this by making Psalm 73:25-26 your motto and praying it to Him daily: "Whom have I in heaven but You? And earth has nothing I desire besides You. My flesh and my heart may fail, but God is the strength of my heart and my portion [reward, inheritance] forever."
Reprioritize your mind by setting it on things above, not on earthly things (Colossians 3:2) .This will help you lay up treasures in heaven, not on earth (Matthew 6:19-20). To invest eternally is an act of worship and it prepares you for your heavenly home.
Refresh your soul through praise. I walk daily near a lake surrounded by gardens, walking trails, and in one place a view of the Pacific Ocean. Being outside and near creation reminds me of my Creator and gives me another reason to praise Him. As I walk, I praise Him for Who He is and thank Him for all He's done. I also try to remember to thank Him for what He hasn't done because I know by now that He displays wisdom in His withholding (Psalm 84:11). There is protection in His "no" and there is often deliverance in what I might see as a delay or a disappointment.
Find ways to make worship a significant part of your everyday life and you will be living His purpose for you.
What will you do today to begin a lifestyle of worship? I'd love to hear it in the comment section below.
(For more on developing an eternal mindset and a lifestyle of worship, see my books, Women on the Edge, and God's Whispers to a Woman's Heart.)