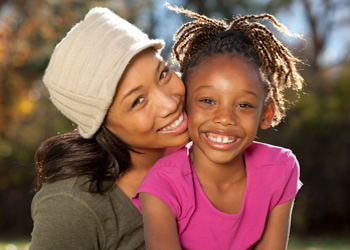 Every day that your daughter lives and breathes is a special day for the two of you to make a memory.
But some memories the two of you make together will no doubt stand out more than others. Through the years, I've noticed that the special dates I planned with or for my daughter were among the memories she cherished the most.
During Dana's college years, she sang on a women's choir that went on tour every year over Mother's Day. During her second year on tour, she had worked on a gift that she left for me to open while she was gone. It was a photo book of all our "mother-daughter" memories – special trips together, days we dressed alike, times we goofed off together – all caught in photographs. I realized then how much it meant to her to have special "Mommy and Me" days from the time she was a child. And I was so grateful to have taken photographs of nearly everything we did together.
Whether your daughter is still an impressionable little girl or is a mother herself, it's never too early or too late to start making memories with her that she will cherish for years to come. Here are some ideas for memory-making that Dana and I (or other moms and daughters) have enjoyed through the years.
1. Have a regularly scheduled "Mom and Daughter Day"
It may start out as a monthly tea party when she's little, and eventually become a "shopping day" when she's a preteen, and a spa day or makeover together at the shopping mall when she's a teenager. The important thing is that you make sure you get into the chair, too – whether it's the little chair for the tea party or the makeup chair at the cosmetics counter. We, as moms, get used to watching our daughters from the sidelines, but they have more fun when we actually participate with them. Share the memory, rather than just observe it.
2. Attend as many of her "special events" as possible
If your daughter is still in school, be a mom who chaperones the field trips as many times as possible (and take lots of pictures when you do…it will help the two of you remember those special times). If she's in sports, cheerleading or band, be the mom who attends the tournaments, competitions, and year-end trips. She will be making memories of her growing up years, and you don't want to miss them. Shopping for special occasion dresses together (for birthdays, Easter, homecoming, prom, graduations, and eventually a wedding dress!) is another great way to make special memories with her.
3. Surprise her with a "show"
When Dana was about 5 years old, I took her to see the off-broadway production of "Beauty and the Beast" live on stage in downtown Los Angeles. It was there that she developed her love for the theatre. Since then, we have tried to attend at least one show a year, whether it be an ice show, the circus, or another theatre production. Today, as an adult, she is buying tickets for her parents to see shows with her.
4. Attend a concert together
The first concert I took Dana to was to see and hear "Point of Grace" — an all-female Christian Contemporary Group that I got her interested in as an alternative to "The Spice Girls" which all her friends were interested in when she was growing up. (Yes, the "diversion" worked!) We had a great time together at the concert and it started a tradition of attending musical concerts together. But I soon found what meant even more to her was when I started booking concerts to groups she really enjoyed that I became interested in because of her. It was a tangible way for me to "enter her world."
5. Make a tradition of a yearly trip together
Part of the fun is in the planning. Every year Dana and I get together with her best friend, Ellie, and Ellie's mom, Midge, and head out to Palm Springs for a day trip or an overnighter. It's become a tradition, around Easter time. We have our favorite stops along the way, our favorite restaurant for Mexican food, and our favorite hotels and pools to visit. On Ellie's 16th birthday, Dana gave her a scrapbook full of pictures of their trips and fun times together from childhood. Midge and I had forgotten how many years – and how many trips – we had spent together making special memories for our daughters. But they hadn't.
6. Start a Blessing Bracelet for her
When Dana was 10 years old, she received a silver charm bracelet from a friend with a cross on it the day she was baptized. I began to add to that bracelet, yearly, a little charm that represented some of the "blessings" we got to experience as mother and daughter, or as a family. There was an ice cream cone charm on it representing the day she and I went to Dana Point Harbor and spent the day together which included eating ice cream. There was a giraffe on it representing a day we spent together at the zoo. She got a "cell phone" charm the day after we had a conversation about the privilege of constant communication with God. And I gave her a tiny "cheetah-print" purse charm to remind her that she is "rich in Christ" because she knows Him and has an inheritance in heaven. Each of those charms represents memories, spiritual lessons, and the overall blessing of knowing Christ. Be creative with reasons for her to receive another "blessing" on her bracelet.
7. Celebrate her "Re-Birthday"
If you know the date (or even the month) when your daughter received Christ as her personal Savior, celebrate it each year as her "re-birthday." Dana will never forget the day I picked her up from school with balloons in honor of her "Fifth Re-Birthday." It was a great opportunity for her to tell her inquiring friends what all the celebrating was about. (Even if your daughter received Christ several years ago as a child, if you know about when it was, start celebrating her re-birthdays now…even if you start with her 10th or 15th!) Her re-birthday is another occasion to get her a charm for her "blessing bracelet."
8. Try something new together
There's something about the sense of adventure that can bond the two of you together. It doesn't need to be extravagant or expensive. Maybe your new experience is trying sushi or taking a Pilates class together, or both of you trying something new with your hair. Be creative. And take turns with who chooses what the next new thing will be.
9. Enjoy a Girls' Movie Night
What girl doesn't like a chick flick? In our home, my husband would rather go to bed early than stay up and watch movies like "Ever After" and "The Holiday." Just as your daughter would bond with her girlfriends in this way, be one of her "girlfriends" for a regular movie night with just mom and the girls.
10. Work on a project together
Do you both like to sew, paint, cook, scrapbook, or decorate? If so, set aside some time to do those things together, whether it involves you teaching her how or her teaching you. Today Dana loves event planning because of how she and I did that together for several years, whether we were decorating the house for holidays, planning and decorating around a theme for a special event at church, or planning another one of her birthday or graduation parties. And even though I'm not a cook, by far, some of our best memories involve her helping me in the kitchen, whether it be baking sugar cookies together or teaching her how to make Swedish pancakes for breakfast. Many daughters have said they have most enjoyed " kitchen" and "in the home" memories with their moms.