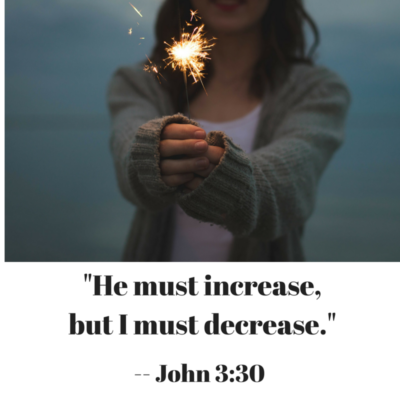 Today I got to thinking about a concept: More Jesus, less selfie.
It goes against everything that's modeled to us in this world.
We are constantly told "Look out for you," "Invest in yourself," and "Love Your Body." I've even seen t-shirts that say "Love Your Selfie!"
I, personally, have bought the lie that I need more of everything else — more time, more money, more energy, more creativity, more motivation, more exposure, more of a "following." Yet the only thing I really need more of is Jesus. And I definitely need less of me.
For a long time, it's been half and half in my life: Half Jesus, half me. But Jesus wants me to be all Him. He isn't interested in a dual reign or a joint partnership.
Jesus said in Matthew 6:24: "No one can serve two masters; for either he will hate the one and love the other, or he will be devoted to one and despise the other. You cannot serve God and wealth."
You cannot serve God and self, either.
Jesus also said "If anyone wishes to come after Me, he must deny himself, and take up his cross and follow Me" (Matthew 16:24).  But how do you and I deny ourselves today in a society that is constantly urging us to put ourselves first? How can you and I, like John the Baptist, live by the motto "He must increase, but I must decrease" (John 3:30)?
We can do that by reversing the way we naturally think and act. It means putting Christ in the place where we would normally put ourselves. It means having:
Less concern for how others see you and more concern for how others see Jesus.
Less focus on what you deserve from others and more focus on what you owe Christ.
Less preoccupation with your perceived rights and more focus on what it means to be a servant of God.
So what does that look like in a practical way? Here are two things I'm focusing on this week to train my heart to want more of Jesus and less of me (I'll give you the other three things in next week's blog):
Find Your Identity – and Worth — in Him. It's easy to find our self worth in our education, accomplishments, titles and positions. We can even find our self worth in our possessions – the higher the salary, the nicer the car, and the bigger the home, the more successful you must be. But the Apostle Paul said "I count everything as loss because of the surpassing worth of knowing Christ Jesus my Lord…" (Philippians 3:8, ESV). Our identity and worth must be rooted in the fact that we are sinners saved by the grace of Jesus Christ alone, adopted into His family, and called His children. You and I are redeemed slaves, orphans who have been adopted and called heirs, beggars who have been given a seat at His table. That reminder alone keeps us from exalting ourselves over God and others, and makes us aware that everything we have has been given to us.
Forfeit Your Will to His. Your marching order as a follower of Christ is spelled out in Galatians 2:20: "I have been crucified with Christ; and it is no longer I who live, but Christ lives in me; and the life which I now live in the flesh I live by faith in the Son of God, who loved me and gave Himself up for me." This life is not your own. So if you've died to self, there's no more of you – only Him living through you. With each choice that comes your way, you exercise more of Him and less of you when you ask "God, how would you decide this? What would You want? I'm Yours, so the choice is Yours, too."
Can you focus on these two lifestyle changes this week? I assure you that, as you do,  your heart will begin to want more of Him than you. That's where I want to be. How about you?