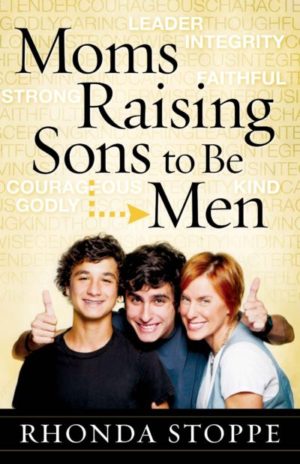 Do you ever feel like you're losing your son?
Here is a question I received recently in my ongoing blog series on "Questions Women Ask":
"My only child got married a year ago and I never see him anymore. I know they're busy with their new life but they do get together with his wife's parents. My son and I were extremely close and I knew it would change and thought I was prepared for it. I thought once he married he and his wife would still come every couple of weeks for a meal like they used to or that he'd call, but he never does. I wonder if his wife has influenced him because they talk often with her parents. My heart is breaking."
I asked my friend, Rhonda Stoppe, author of Moms Raising Sons to Be Men, to offer some advice for this hurting mom and others who may be going through something similar. Rhonda has raised two sons into manhood and understands the heart of the mom of a son.
Rhonda says:
"A daughter's a daughter for the rest of her life, a son is a son til he takes a wife." We've all heard this familiar poem, and yet when mothers of sons are faced with the reality that they are no longer the apple of their son's eye the experience can be bitter sweet."
Rhonda encourages moms who feel neglected by their sons to "keep a pure heart before the Lord as you work through your disappointment — so your prayers for your son and daughter-in-law can be effective (James 5:16).
"I would also remind you that it is God who works in us to will and to do His good pleasure (Philippians 2:13). Pray for God to work in your son and daughter-in-law to love you and be sensitive to your need to have a closer relationship with them…and then WAIT upon the Lord to do the work in their hearts as they adjust to being newlyweds and the excitement of their new lives together.
"Finally, I would caution you to not be jealous, envious, or bitter against your son's wife or her parents because the root of bitterness can cause exactly the opposite result in your relationship with your son. If we, as moms, try to manipulate or guilt our sons into spending more time with us and they feel they are being forced to "choose" between their mother and their wife they will choose their wives."
Rhonda says when her sons got married she encouraged them not to call her on the phone after they got home from work after being away from their wives all day, but asked them to once in a while call her on their way home from work so they could visit a bit."
Finally, Rhonda says, "Remember, men use half the amount of words in a day than women do so often our sons just don't have enough words left in them after a day of working and then visiting with their wives. (My sons are much better at texting than talking with me and I am HAPPY to have that form of communication and know they still have enough words left to have meaningful conversations with their wives…)"
For more encouragement and practical advice, see Rhonda's book, Moms Raising Sons to Be Men.
How have you dealt with your son "leaving and cleaving to his wife"? My readers and I would love to hear your experience or advice in the comment section below.