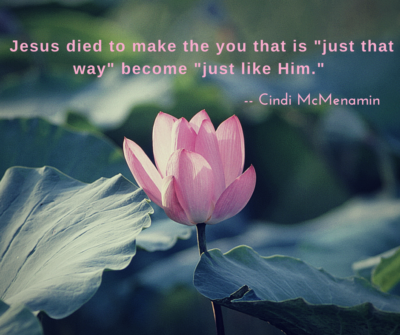 Do you see yourself according to how your past mistakes have defined you? Do you find yourself believing that you will always be a certain way?
I'll admit it. I've found myself saying, at times, "That's just the way I am." But I realize now how pathetic that sounds.
Maybe, like me, you've found yourself saying things like:
"I have abandonment issues. I'm just that way."
"I will never trust another person. That's just the way I am."
I have always needed a man in my life. I'm just that way."
"Sorry I got so defensive. You should know I'm just that way."
A sure sign that we are stuck from pain in our past is when we excuse our behavior by saying "That's just the way I am." Or, when we continue to believe that we can never grow beyond a certain place.
In my newest book, When a Woman  Overcomes Life's Hurts, I point out a crucial step to healing and wholeness: Renew your mind to think differently. If you have a relationship with God, the old you that was "just that way" is gone. And the new you is one that is, in essence, "just like Him."
In Galatians 2:20, the Apostle Paul says this, which I believe is to be our motto in life:  "I have been crucified with Christ and I no longer live, but Christ lives in me. The life I live in the body, I live by faith in the Son of God, who loved me and gave himself for me." And our song of newness is found in Second Corinthians 5:17: "…if  anyone is in Christ, he is a new creation; the old has gone, the new has come!"
Here are two practical ways you can renew your mind and receive your new identity — the one that is "just like Him":
1. Let God Define Who You Are – This happens when you get into God's Word and understand what He is saying to you through the Scriptures.  God says you're His friend, His beloved, a saint, unconditionally loved, forever secure, His masterpiece, and so on. Let God define who you are — not your parents,  not your past, not a school teacher from long ago, or a friend who used to criticize you, or a boss who thought you weren't  capable of much.
2. Lock Up the Negative Thoughts – In order to let God — and not the voices in your head — define you, you must learn to bring "every thought into captivity to the obedience of Christ" (2 Corinthians 10:5). When you hear negative thoughts from your head defining you, capture them — instead of letting them run loose. Be determined to only hear the thoughts that are obedient to God, the thoughts that are consistent with His Word's description of you — the thoughts that say "I have loved you with an everlasting love…" (Jeremiah 31:3), "I have called you friends" (John 15:15), "you have been made complete" (Colossians 2:10), and "I can do everything through him who gives me strength" (Philippians 4:13).
Who are you really, my friend? Renew your mind — and receive your new identity — with the beautiful descriptions of you found in God's Word.
I would love to hear the passages of scripture that have helped shape YOUR identity.